Umar Maya Waterfall in Bayan Sub-District, East Lombok Regency - Indonesia
---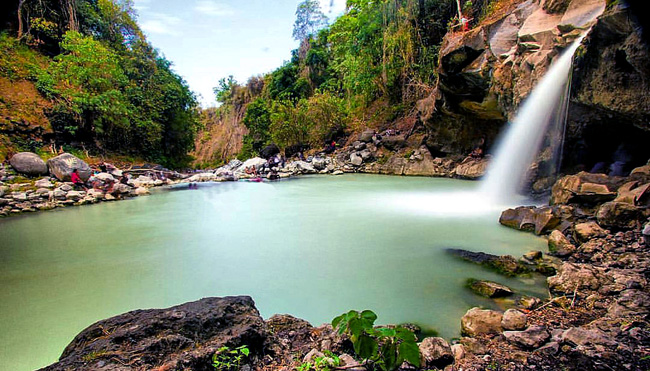 Trekking is the best thing to do when exploring Rinjani Mountain of Lombok Island for sure. However, tourists can enjoy relaxation and sightseeing in several good spots located on the mountain as well. For instance, it is Umar Maya Waterfall, which resides in Sambik Elen Village. It belongs to Bayan Sub-District and located near to Madu Waterfall, actually. In fact, these waterfalls share the same parking area! No wonder, those who visit Umar Maya are likely to drop by in its neighboring waterfall as well.
The Nuance
From the parking area, travelers need to walk for about 300 meters in order to get to the location. The landscape is both damp and rocky, so everyone should be careful when heading to the site. Make sure to wear safe and comfortable footwear, therefore. For a faster trip, it is better to hire a local guide beforehand (they are usually available at the parking lot). Once arriving at the site, they may see a cute waterfall having the height of about 10 meters. Even the pond looks calm and beautiful, luring everyone to get in it.
Exploring Umar Maya Waterfall
In terms of characteristics, Umar Maya Waterfall is similar to Mangku Kodek and Mangku Sakti Falls. It has green Tosca and milky color of water. No wonder, the waterfall contains sulfur coming from Rinjani Mountain. Despite the fact, the water is safe for bathing! In fact, it gives good effects to the skin and is able to eradicate several problems especially acne. Knowing the information, the majority of visitors would enjoy bathing in the available pond. As long as they do not spoil the environment, they are allowed to do such activity.
Aside from bathing, visitors should hear the history of Umar Maya Waterfall. Have no worries. The locals or tour guides would tell it to them. According to villagers, a famous king named Umar Maya came to the site to live as an ascetic. He stayed in the cave located behind the waterfall and improved his power and wisdom. At the end of his hermitage, he decided to take a bath on the pond as well. Further information or story regarding this man can be obtained from the locals, actually. Do not forget to give some money for such information, though.
What is next? Not only for its beautiful landscape and interesting story, Umar Maya Waterfall features a neighboring waterfall called Telaga Madu. The location is quite near so tourists should never miss the chance to visit it. However, the water is not as stunning as that of Umar Maya.
Nearby Attractions
Pasir Hitam Beach
Umar Maya Waterfall
Bilok Petung Waterfall
Mangku Sakti Waterfall
Candi Batu Waterfall
How to Get There
As mentioned before, the location of this beautiful waterfall is in Sambik Elen Village. From Mataram City, travelers need to head to Bayan Sub-District first. Next, they can go to the village right away and the whole trip takes about 2 hours and 30 minutes. As for the route, it is Raya Mataram – Raya Bayan Street.
Where to Stay
Rinjani Trails Hotel
Rinjani Lodge
Sembalun Agro Villa

Latest News
Of the many tourist destinations in West Lombok Regency, West Nusa Tenggara, Mekarsari Narmada Park offers interesting tour packages. Tourists can try the Tri Sunah activity tour package. The Tri Sunnah are swimming, horse riding and archery. Mekarsari Narmada Park originated from the desire of local residents to take advantage of the existing agricultural potential. The management has built a new swimming pool on resident's land of 2,500 square besto the ide Pecatu village land of 4,500 square meters. The village land was turned into a park equipped with archery…
---
Kenawa Hill in Sumbawa Regency, West Nusa Tenggara Province Sumbawa Regency is part of West Nusa Tenggara Province and it consists of both land and sea natural attractions. The region even features an archipelago where many beautiful gilis or small islands reside. Kenawa Island is one of them and it is known for both the stunning sea and the famous Kenawa Hill. That means tourists should head to the island first if they want to explore and get on the top of the hill. At that spot, they can enjoy…
---
Sumbawa Regency is part of West Nusa Tenggara Province and it consists of both land and sea natural attractions. The region even features an archipelago where many beautiful gilis or small islands reside. Kenawa Island is one of them and it is known for both the stunning sea and the famous Kenawa Hill. That means tourists should head to the island first if they want to explore and get on the top of the hill. At that spot, they can enjoy several tourist activities like sightseeing, photography, camping, and short…
---
Well, some tourists are likely to look for unique vacation spots over time. It is because they want to get a new experience during the holidays. In this case, Sumbawa Regency offers Batu Bulan Dam! As the name suggests, the dam resides in Batu Bulan Village and it belongs to Moyo Hulu Sub-District. In terms of function, it is similar to other dams for sure. One thing that makes it different is related to the nuance. The beautiful landscape and merry atmosphere lure more people to enjoy sightseeing, photography, fishing,…
---