Ceper Stone in Sembalun Sub-District, Lombok Island - Indonesia
---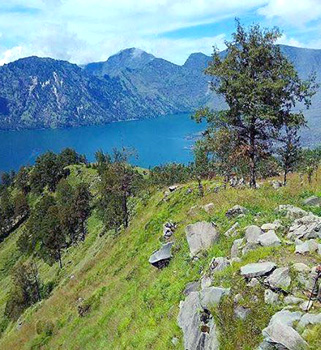 It is a good thing that Rinjani Mountain has an interesting attraction called Ceper Stone. Actually, this site is part of the trekking route for those who are reaching Plawangan Senaru Field. In fact, it takes only an hour to get to this site from that location. Not only it comes to a good place for sightseeing (especially to watch Segara Anak Lake) from a different point of view, but the site is also popular due to its legend. This explains why most tourists would hire a local guide when visiting Ceper Stone as they want to hear the story comfortably while trekking.
The Nuance
Ceper Stone offers several natural beauties to visitors like trees, dry grasses, and hills. The unique part is that the site features various sizes of stones scattered in a different spot. Somehow, these stones make the site unique and it becomes a good location to conduct photography. Not to mention some of the stones have a big size, on which tourists can climb and sit. As for the path, it has moderate difficulty. Have no worries. Even beginners can enjoy trekking here.
Exploring Ceper Stone
Visitors can do several fun activities when visiting Ceper Stone. The most common one is to conduct exploration. That means they simply get around the site and conquer such exciting landscape by walking. One thing, many stones scatter on the ground so trekkers should watch their steps well. What is more? Aside from exploration, sightseeing is also recommended. In this case, make sure to climb the big stones and witness the pristine scenery from there. Once again, do it in a careful manner as the stones can be slippery sometimes.
The next recommended activity is to learn the story related to Ceper Stone. Only the locals and experience tour agents know the story, though. Thus, make sure to come with such service when trekking to the site. The rumor has it. A woman left her son on a stone when she went working. Magically, the stone kept rising over time. The kid called for her mother, but she didn't respond due to her hectic activity on the farm. The stone kept rising and reached the sky and the kid's voice could be heard no more.
Even though not all tourists believe in such story, it remains as an interesting folk to the majority of visitors. Recently, Ceper Stone is known for its natural beauty instead of such legend, though. The fact is more photographers often come to the site to capture numerous beautiful objects up there as well.
Nearby Attractions
Rinjani Garden
Siwa Hill
Rinjani Trekking Center
Pelawangan Sembalun Field
Savanna Trail
Bamboo Park
Pelawangan Senaru Field
How to Get There
The good thing is that Ceper Stone is quite accessible either from Senaru or Sembalun. For those who come from Mataram City, though, they need to spend about 3 hours to get to the site. As for the distance, it is 90.4 km. Do not forget to take Raya Mataram – Labuan Lombok Street for a faster trip.
Where to Stay
Rinjani Lodge
Soedjono Inn
Mas Mas Bungalows


Latest News
Of the many tourist destinations in West Lombok Regency, West Nusa Tenggara, Mekarsari Narmada Park offers interesting tour packages. Tourists can try the Tri Sunah activity tour package. The Tri Sunnah are swimming, horse riding and archery. Mekarsari Narmada Park originated from the desire of local residents to take advantage of the existing agricultural potential. The management has built a new swimming pool on resident's land of 2,500 square besto the ide Pecatu village land of 4,500 square meters. The village land was turned into a park equipped with archery…
---
Kenawa Hill in Sumbawa Regency, West Nusa Tenggara Province Sumbawa Regency is part of West Nusa Tenggara Province and it consists of both land and sea natural attractions. The region even features an archipelago where many beautiful gilis or small islands reside. Kenawa Island is one of them and it is known for both the stunning sea and the famous Kenawa Hill. That means tourists should head to the island first if they want to explore and get on the top of the hill. At that spot, they can enjoy…
---
Sumbawa Regency is part of West Nusa Tenggara Province and it consists of both land and sea natural attractions. The region even features an archipelago where many beautiful gilis or small islands reside. Kenawa Island is one of them and it is known for both the stunning sea and the famous Kenawa Hill. That means tourists should head to the island first if they want to explore and get on the top of the hill. At that spot, they can enjoy several tourist activities like sightseeing, photography, camping, and short…
---
Well, some tourists are likely to look for unique vacation spots over time. It is because they want to get a new experience during the holidays. In this case, Sumbawa Regency offers Batu Bulan Dam! As the name suggests, the dam resides in Batu Bulan Village and it belongs to Moyo Hulu Sub-District. In terms of function, it is similar to other dams for sure. One thing that makes it different is related to the nuance. The beautiful landscape and merry atmosphere lure more people to enjoy sightseeing, photography, fishing,…
---