Sulat Island in Rinjani Mountain National Park, Lombok Island - Indonesia
---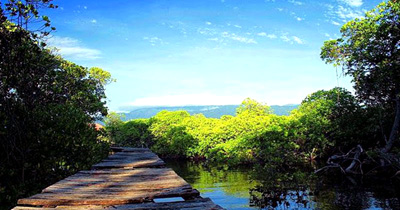 Aside from Lawang Island, another Gili is available to explore and it belongs to Rinjani Mountain National Park as well. The name is Sulat Island and the location is quite near to Gili Lawang. Here is the next important fact regarding the island. The Wallace Line passes through this island, so it is considered more famous than its sibling. Also, it offers merrier features and bigger size as compared to Lawang. This explains why the island is more suitable for an adventure and exploration instead of relaxation. What is more?
The Nuance
In terms of nuance, as mentioned before, Sulat Island has lots of features. For instance, visitors can find lush mangroves located in some parts of the island.  In fact, the variety of those mangroves is considered impressive and has been recognized by other countries in South East Asia region. Moreover, many types of local birds live on this island and they look stunning as well. What about the size? The island has the length of about 5.2 km and it is covered with lots of trees.
Exploring Sulat Island
The best attraction in Sulat Island is definitely its mangroves. As for tourists, such natural attraction looks so interesting and becomes a good background for photography. The site even becomes a good spot for exploration despite the small size. The only consideration is that visitors should pay attention to their steps. It is because of some snakes, especially the green snakes, live there. Also, it is better to come to Sulat Island either in the morning or afternoon. The heat of the sun makes it uncomfortable to explore the island at noon, after all.
The next thing tourists can do in Sulat Island is to witness the beautiful wild birds that live in the mangroves. The most common species of bird that lives on the island is called Maleo or Bertong. According to the locals, these birds migrate to other islands like Bali, Sumba, and Sulawesi during a specific of time. If tourists are lucky, they would be able to witness such process directly. Thus, make sure to carry a camera and be ready to capture any beautiful moments during the adventure in Sulat Island.
Another recommended activity is to visit the beach. The waves are calm and the sea scenery is quite amusing. This explains why swimming is quite popular in Sulat, as well. Still, make sure to do swimming at noon in order to avoid the heat of the sun. Later, before going home, tourists should visit nearby islands like Kondo and Lawang, which offer distinct attractions to them.
Nearby Attractions
Lawang Island
Kondo Island
How to Get There
It is easy to get to Sulat Island as the direction is the same to Lawang Island. From Mataram City, travelers need to head to East Lombok Regency and visit the local port right away. This trip takes 3-4 hours and the distance is 91 km. From the port, they can ride a boat and head to Lawang Island first. The distance is 3 km, so it takes only several minutes. Once arriving at Lawang, another boat is required to get to Sulat Island. Have no worries. The distance is only 500 meters

Latest News
Of the many tourist destinations in West Lombok Regency, West Nusa Tenggara, Mekarsari Narmada Park offers interesting tour packages. Tourists can try the Tri Sunah activity tour package. The Tri Sunnah are swimming, horse riding and archery. Mekarsari Narmada Park originated from the desire of local residents to take advantage of the existing agricultural potential. The management has built a new swimming pool on resident's land of 2,500 square besto the ide Pecatu village land of 4,500 square meters. The village land was turned into a park equipped with archery…
---
Kenawa Hill in Sumbawa Regency, West Nusa Tenggara Province Sumbawa Regency is part of West Nusa Tenggara Province and it consists of both land and sea natural attractions. The region even features an archipelago where many beautiful gilis or small islands reside. Kenawa Island is one of them and it is known for both the stunning sea and the famous Kenawa Hill. That means tourists should head to the island first if they want to explore and get on the top of the hill. At that spot, they can enjoy…
---
Sumbawa Regency is part of West Nusa Tenggara Province and it consists of both land and sea natural attractions. The region even features an archipelago where many beautiful gilis or small islands reside. Kenawa Island is one of them and it is known for both the stunning sea and the famous Kenawa Hill. That means tourists should head to the island first if they want to explore and get on the top of the hill. At that spot, they can enjoy several tourist activities like sightseeing, photography, camping, and short…
---
Well, some tourists are likely to look for unique vacation spots over time. It is because they want to get a new experience during the holidays. In this case, Sumbawa Regency offers Batu Bulan Dam! As the name suggests, the dam resides in Batu Bulan Village and it belongs to Moyo Hulu Sub-District. In terms of function, it is similar to other dams for sure. One thing that makes it different is related to the nuance. The beautiful landscape and merry atmosphere lure more people to enjoy sightseeing, photography, fishing,…
---