Tiu Kelep Waterfall in Bayan Sub-District, Lombok Island - Indonesia
---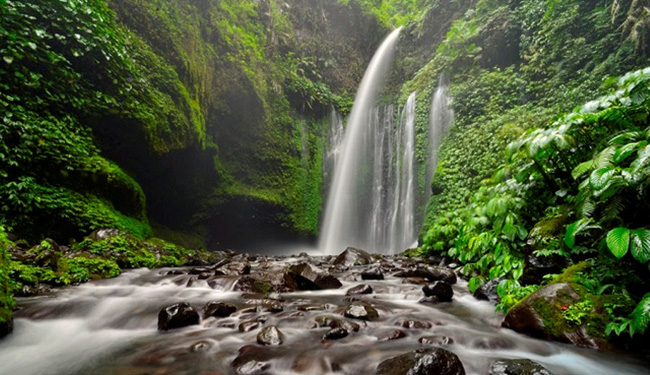 Located near to Bali, Lombok Island becomes a good alternative to spend a vacation either with family, alone or friends. Consisting of numerous types of natural attractions, it also becomes a good destination for an adventure and lessening. One of the most recommended spots to explore in Lombok Indonesia is called Tiu Kelep Waterfall, which is located in Bayan Sub-District. Well, it offers a pristine environment and clear water with a strong current. Not only visitors are into its beauty, they are also interested in the myth regarding the waterfall! Anyways, let's talk more about this interesting vacation spot.
The Nuance
One of the best characteristics of Tiu Kelep Waterfall is the strong flow of the water, creating a hypnotizing sound of gurgling water. Also, the nuance feels so peaceful and cold due to the fact that the site resides in the middle of a forest. Many plants, trees, and bushes surround it as well including some rocks and a small pond. Another important fact is that the water feels so rejuvenating and it appears crystal clear. Somehow, the natural pond lures everyone to get in and take a bath in it as well. In terms of size, it has the height of about 42 meters. Not to mention it once became a movie shooting site!
Exploring Tiu Kelep Waterfall
Before exploring the waterfall, visitors should learn some important information regarding the site. For example, it is related to the name. Tiu Kelep means "Kolam Terbang" or the flying pond. The locals named it that way due to the foams created by the strong flow of the water. Tourists can acquire such information from the locals or a tour guide, actually. Next, it is also important to hear the myth regarding the waterfall. It is said the water has the healing ability and helps everyone to retain youth.
The next attraction in Tiu Kelep Waterfall is definitely its beautiful environment. The flawless crystal clear water never fails to amuse visitors and the lush trees create a shady nuance to the site. This is why tourists are likely to spend some time to enjoy such astonishing atmosphere for relaxation. They don't have to get in the water, after all. Simply sitting and watching the waterfall is quite comforting as well. However, almost everyone takes the bait and gets lured to take a bath in it. What about you?
What is more? Tiu Kelep Waterfall has an easy accessibility. No wonder, it is more popular than other waterfalls in Lombok and gets more visitors as compared to them. Moreover, it features several "warungs" or food stalls where tourists can buy both foods and drinks while spending a good time on the site.
Nearby Attractions
Tiu Kelep Waterfall
Jeruk Manis Waterfall
Tiu Teja Waterfall
How to Get There
Here is the fact. Tiu Kelep Waterfall is located near to Senaru Village. Thus, it takes about 2 hours from Mataram City and the distance is 84 km. Another consideration is related to the route. Tourists should take Raya Mataram – Raya Bayan Street for a more comfortable and faster trip, actually.
Where to Stay
Rinjani Lodge
Horizon Senaru
Soedjono Inn
Lombok Plaza Hotel
Griya Asri Hotel

Latest News
Of the many tourist destinations in West Lombok Regency, West Nusa Tenggara, Mekarsari Narmada Park offers interesting tour packages. Tourists can try the Tri Sunah activity tour package. The Tri Sunnah are swimming, horse riding and archery. Mekarsari Narmada Park originated from the desire of local residents to take advantage of the existing agricultural potential. The management has built a new swimming pool on resident's land of 2,500 square besto the ide Pecatu village land of 4,500 square meters. The village land was turned into a park equipped with archery…
---
Kenawa Hill in Sumbawa Regency, West Nusa Tenggara Province Sumbawa Regency is part of West Nusa Tenggara Province and it consists of both land and sea natural attractions. The region even features an archipelago where many beautiful gilis or small islands reside. Kenawa Island is one of them and it is known for both the stunning sea and the famous Kenawa Hill. That means tourists should head to the island first if they want to explore and get on the top of the hill. At that spot, they can enjoy…
---
Sumbawa Regency is part of West Nusa Tenggara Province and it consists of both land and sea natural attractions. The region even features an archipelago where many beautiful gilis or small islands reside. Kenawa Island is one of them and it is known for both the stunning sea and the famous Kenawa Hill. That means tourists should head to the island first if they want to explore and get on the top of the hill. At that spot, they can enjoy several tourist activities like sightseeing, photography, camping, and short…
---
Well, some tourists are likely to look for unique vacation spots over time. It is because they want to get a new experience during the holidays. In this case, Sumbawa Regency offers Batu Bulan Dam! As the name suggests, the dam resides in Batu Bulan Village and it belongs to Moyo Hulu Sub-District. In terms of function, it is similar to other dams for sure. One thing that makes it different is related to the nuance. The beautiful landscape and merry atmosphere lure more people to enjoy sightseeing, photography, fishing,…
---