Trekking Through Senaru Trail in Rinjani Mountain, Lombok Island - Indonesia
---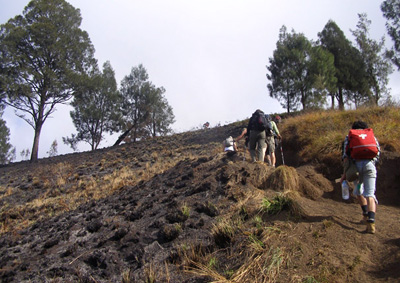 Rinjani Mountain is part of Lombok Island and it has been chosen as one of the best tourist spots in such region aside from the beaches and cultures. When it comes to popularity, the mountain is famous for its trekking route and national park. No wonder, most visitors are those who love nature and those who want to get a new experience. In this case, the most recommended tour package is called Senaru Trail. As the name suggests, this trekking route goes to Senaru Village and it starts from Sembalun Village or vice versa.
The Nuance
The length of Senaru Trail is approximately 34 km, so it is considered tiring for some people. Despite the fact, lots of natural attractions await everyone on the site including scenic views. According to the locals, the trail has a moderate to high difficulty and it functions more than just for hiking, but backpacking and mountain biking as well. Big trees, savannas, mountainous views, and refreshing air become the major features they can find on such route. Not to mention the gates can be seen on both Senaru and Sembalun Village.
Exploring Senaru Trail
In terms of popularity, Senaru Trail is definitely famous. In fact, it is the most used trekking route in Rinjani Mountain. Also, it offers easier and less troublesome landscape to trekkers. That means the trek is suitable for both beginners and experienced hikers. As for the starting point, tourists usually visit Senaru Village to prepare everything. It is located 600 meters above the sea level, so the atmosphere feels so refreshing! What about the ending point? It depends on trekkers' preference, which is usually either the crater rim or Sembalun Village.
For those who want to head to the crater rim through Senaru Trail, they must spend about 6 hours to get to the site. Usually, trekkers start the activity in the late afternoon but some of them choose early times in order to get to the destination before dark. The first encounter, during trekking, is the rainforest where they can find local animals like black monkeys (lutung). Make sure not to disturb them, though. In order to avoid hassles, it is better to hire a porter beforehand. The price is not that expensive, after all.
Senaru Trail features several posts where tourists can get information and rest for a while before continuing their trekking. Also, it takes patience to pass through everything as this adventure takes some time and stamina. In this case, carrying bottled water and some snacks would be quite helpful especially for first-timers.
Nearby Attractions
Tiu Kelep Waterfall
Jeruk Manis Waterfall
Tiu Teja Waterfall
How to Get There
For those coming from Mataram City, they can directly head to either Sembalun or Senaru Village. The trip might take about 2-3 hours as the distance is 84 km. For a faster trip, the best route to take should be Raya Mataram – Raya Bayan Street. Also, it is recommended to ride a good vehicle to get to the location.
Where to Stay
Rinjani Lodge
Horizon Senaru
Soedjono Inn

Latest News
Of the many tourist destinations in West Lombok Regency, West Nusa Tenggara, Mekarsari Narmada Park offers interesting tour packages. Tourists can try the Tri Sunah activity tour package. The Tri Sunnah are swimming, horse riding and archery. Mekarsari Narmada Park originated from the desire of local residents to take advantage of the existing agricultural potential. The management has built a new swimming pool on resident's land of 2,500 square besto the ide Pecatu village land of 4,500 square meters. The village land was turned into a park equipped with archery…
---
Kenawa Hill in Sumbawa Regency, West Nusa Tenggara Province Sumbawa Regency is part of West Nusa Tenggara Province and it consists of both land and sea natural attractions. The region even features an archipelago where many beautiful gilis or small islands reside. Kenawa Island is one of them and it is known for both the stunning sea and the famous Kenawa Hill. That means tourists should head to the island first if they want to explore and get on the top of the hill. At that spot, they can enjoy…
---
Sumbawa Regency is part of West Nusa Tenggara Province and it consists of both land and sea natural attractions. The region even features an archipelago where many beautiful gilis or small islands reside. Kenawa Island is one of them and it is known for both the stunning sea and the famous Kenawa Hill. That means tourists should head to the island first if they want to explore and get on the top of the hill. At that spot, they can enjoy several tourist activities like sightseeing, photography, camping, and short…
---
Well, some tourists are likely to look for unique vacation spots over time. It is because they want to get a new experience during the holidays. In this case, Sumbawa Regency offers Batu Bulan Dam! As the name suggests, the dam resides in Batu Bulan Village and it belongs to Moyo Hulu Sub-District. In terms of function, it is similar to other dams for sure. One thing that makes it different is related to the nuance. The beautiful landscape and merry atmosphere lure more people to enjoy sightseeing, photography, fishing,…
---