Jeruk Manis Waterfall in Kembang Kuning Village, Lombok Island
---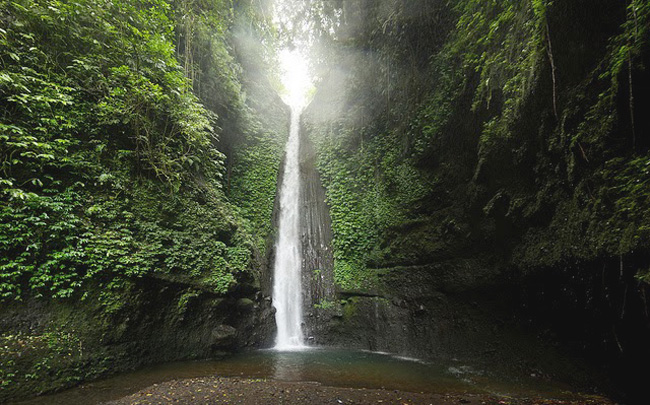 For those who love a natural adventure in Indonesia, a beautiful waterfall like Jeruk Manis indeed becomes an interesting choice to explore. The location is in Kembang Kuning Village, Lombok Island. Not only it offers clear fresh water, the waterfall owns a peaceful atmosphere and lush landscape. This is why tourists should include it in their agenda when visiting Lombok later. Aside from enjoying the nature, they can take a bath and conduct photography on the site. In terms of name, Jeruk Manis means the Sweet Lime. No one is sure how the waterfall got its name, though.
The Nuance
One word represents Jeruk Manis Waterfall, which is "secluded". As people might expect, it is located between narrow cliffs and the site doesn't even get enough ray of the sun. That means the nuance is a little bit shady and damp, but it remains beautiful. In terms of height, it is around 25-30 meters and the water flows beautifully toward the small river surrounded by small stones. There is a small pond, too, on which tourists can take a bath. Another important fact is that the number of visitors is low, so the site is not quite crowded with people even during holidays. Such peaceful nuance is a good thing for tourists, though.
Exploring Jeruk Manis Waterfall
Before exploring the waterfall, it is better to learn a bit story behind it. Jeruk Manis Waterfall was found by Mr. Muis in 1983. Since then, it has attracted both local and foreign tourists who want to relax and enjoy its peaceful atmosphere. After hearing such story, it is time to explore the site. The adventure begins from the entrance, which is located in Kembang Kuning Village. From there, tourists need to walk for several minutes to get to the site.
During such short trekking, they may see numerous types of wild flora including Lemuru, Durian, and Lixoura. As for the fauna, the chance is that tourists may encounter a group of deer and monkey. Despite their wild appearance, they look cute somehow. Another feature that they can find during trekking is a formation of gazebos (berugak). These are the places where tourists can relax for a while before reaching the waterfall while watching the views of the protected forest.
Once arriving at the site, tourists can directly get in the water and restore their energy. The water feels refreshing and the nuance is quite nonviolent! Later, they should take the chance to explore the site and take some beautiful pictures there. This is why tourists should not forget to carry a camera during the visit. Somehow, a family feast or recreation is recommended as long as they take care of the trash later.
Nearby Attractions
Tiu Kelep Waterfall
Telaga Mountain
Tetebatu Village
How to Get There
The checkpoint is in Mataram City. From there, tourists should directly to Kembang Kuning Village in East Lombok Regency. The distance between those locations is 52.2 km, so the trip takes around 1 hour and 30 minutes. Do not forget to drop by in Tetebatu Village to rest for a while.
Where to Stay
Aerotel Mandalika
Rinjani Lodge
Santika Mataram Hotel


Latest News
Of the many tourist destinations in West Lombok Regency, West Nusa Tenggara, Mekarsari Narmada Park offers interesting tour packages. Tourists can try the Tri Sunah activity tour package. The Tri Sunnah are swimming, horse riding and archery. Mekarsari Narmada Park originated from the desire of local residents to take advantage of the existing agricultural potential. The management has built a new swimming pool on resident's land of 2,500 square besto the ide Pecatu village land of 4,500 square meters. The village land was turned into a park equipped with archery…
---
Kenawa Hill in Sumbawa Regency, West Nusa Tenggara Province Sumbawa Regency is part of West Nusa Tenggara Province and it consists of both land and sea natural attractions. The region even features an archipelago where many beautiful gilis or small islands reside. Kenawa Island is one of them and it is known for both the stunning sea and the famous Kenawa Hill. That means tourists should head to the island first if they want to explore and get on the top of the hill. At that spot, they can enjoy…
---
Sumbawa Regency is part of West Nusa Tenggara Province and it consists of both land and sea natural attractions. The region even features an archipelago where many beautiful gilis or small islands reside. Kenawa Island is one of them and it is known for both the stunning sea and the famous Kenawa Hill. That means tourists should head to the island first if they want to explore and get on the top of the hill. At that spot, they can enjoy several tourist activities like sightseeing, photography, camping, and short…
---
Well, some tourists are likely to look for unique vacation spots over time. It is because they want to get a new experience during the holidays. In this case, Sumbawa Regency offers Batu Bulan Dam! As the name suggests, the dam resides in Batu Bulan Village and it belongs to Moyo Hulu Sub-District. In terms of function, it is similar to other dams for sure. One thing that makes it different is related to the nuance. The beautiful landscape and merry atmosphere lure more people to enjoy sightseeing, photography, fishing,…
---