Nanggi Hill in Sembalun Bumbung Village, East Lombok Regency - Indonesia
---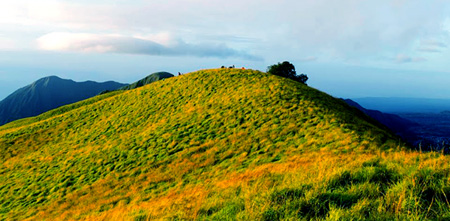 It has become common knowledge that Rinjani Mountain is a top vacation destination in Lombok Island. Still, only a few people know the presence of beautiful hills like Nanggi. This majestic hill is located in Sembalun Bumbung Village and it belongs to East Lombok Regency. The fact is that it is the most famous hill as compared to others! The reason is none other than its size and its easy access. No wonder, those who visit Rinjani are likely to drop by in Nanggi to either relax or witness the flawless scenery from up there. It is also popular among campers, actually.
The Nuance
In terms of nuance, it feels so cold and peaceful up there. Most of the time, fog covers the surface of the hill, especially in the morning. Not to mention the location is near to both Rinjani Mountain and Pengasingan Hill. This explains why the number of visitors is high due to such strategic location. It is at 2300 meters above the sea level, so it takes some time and stamina to get to the top of the hill. Despite the fact, it doesn't stop tourists to explore the hill and conduct numerous activities there including camping and trekking.
Exploring Nanggi Hill
As mentioned before, Nanggi Hill is located near to Rinjani Mountain so the access is considered easy for everyone. Also, it becomes an easier sport to conduct trekking as compared to such majestic mountain. Simply put, Nanggi becomes a perfect place for casual trekkers or those who do not want to spend much time or stamina during hiking. The next reason why more people come to the site is due to the presence of breathtaking sunset view. In order to get the opportunity to witness it, though, tourists must start their trekking early or before the dusk.
The next reason why lots of people are fond of Nanggi Hill is the opportunity for camping. A good spot for camping is available up there and it is considered safe and comfortable, even for beginners. Later, in the evening, visitors can see flawless night sky with its mesmerizing stars. As the night goes by, the next attractive attraction is definitely the sunrise in the morning. The sun shines beautifully on Rinjani Mountain, creating a soothing atmosphere to the site.
For those who want to enjoy camping on Nanggi Hill, they must prepare several items beforehand. These include the tent, warm clothes, cooking tools, etc. As for the foods, they must carry enough snacks, bottled water, tea, coffee, etc. Do not forget to carry a camera! It would be a waste if they miss the chance to capture some beautiful pictures on the site regardless of the time.
Nearby Attractions
Pusuk Sembalun Park
Rinjani Trekking Center
Telaga Mountain
Dandaun Hill
How to Get There
For those coming from Mataram City, it takes about 2-3 hours to get to Sembalun Bumbung Hill as the distance is about 82.3 km. For a faster trip, they must take Raya Mataram – Labuan Lombok Street. Also, it is recommended to come in a group in order to avoid problems during trekking later.
Where to Stay
Maria Guesthouse
Rinjani Lodge
Sembalun Kita Cottage
Sembalun Agro Villa

Latest News
Of the many tourist destinations in West Lombok Regency, West Nusa Tenggara, Mekarsari Narmada Park offers interesting tour packages. Tourists can try the Tri Sunah activity tour package. The Tri Sunnah are swimming, horse riding and archery. Mekarsari Narmada Park originated from the desire of local residents to take advantage of the existing agricultural potential. The management has built a new swimming pool on resident's land of 2,500 square besto the ide Pecatu village land of 4,500 square meters. The village land was turned into a park equipped with archery…
---
Kenawa Hill in Sumbawa Regency, West Nusa Tenggara Province Sumbawa Regency is part of West Nusa Tenggara Province and it consists of both land and sea natural attractions. The region even features an archipelago where many beautiful gilis or small islands reside. Kenawa Island is one of them and it is known for both the stunning sea and the famous Kenawa Hill. That means tourists should head to the island first if they want to explore and get on the top of the hill. At that spot, they can enjoy…
---
Sumbawa Regency is part of West Nusa Tenggara Province and it consists of both land and sea natural attractions. The region even features an archipelago where many beautiful gilis or small islands reside. Kenawa Island is one of them and it is known for both the stunning sea and the famous Kenawa Hill. That means tourists should head to the island first if they want to explore and get on the top of the hill. At that spot, they can enjoy several tourist activities like sightseeing, photography, camping, and short…
---
Well, some tourists are likely to look for unique vacation spots over time. It is because they want to get a new experience during the holidays. In this case, Sumbawa Regency offers Batu Bulan Dam! As the name suggests, the dam resides in Batu Bulan Village and it belongs to Moyo Hulu Sub-District. In terms of function, it is similar to other dams for sure. One thing that makes it different is related to the nuance. The beautiful landscape and merry atmosphere lure more people to enjoy sightseeing, photography, fishing,…
---