Torean Trail in Bayan Sub-District, North Lombok Regency - Indonesia
---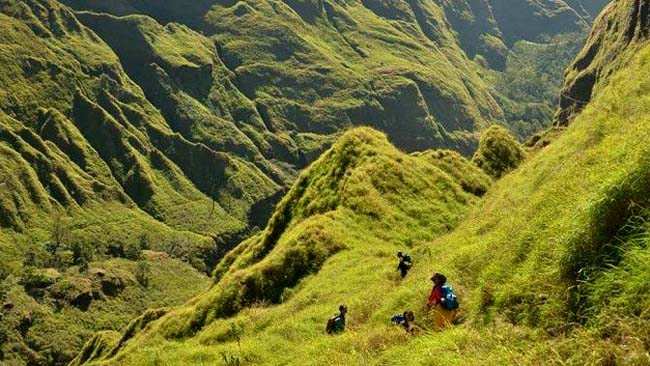 Tourists' most common motivation to visit Rinjani Mountain is indeed to enjoy trekking. They should be thankful for the presence of many trekking routes there, as well. One of them is called Torean Trail and it is located in Torean Village, Bayan Sub-District. Even though this trekking route is not as famous as Sembalun's and Senaru's, it remains popular among casual trekkers or those who want to get to Rinjani Mountain National Park. It also becomes an access to several interesting attractions including Segara Anak Lake and local hot spring.
The Nuance
In terms of difficulty, Torean Trail is easier than others. No wonder, it is suitable for families or those who do not have enough trekking experience. Also, visitors can see amazing scenery of Sangkareang and Rinjani Mountains from that place. These include hills, rivers, waterfalls, hot springs, etc. Here is another interesting feature of the trail. During holidays, several trekkers are seen exploring the site with the porters. Later, before going home, tourists are likely to drop by at Torean Village to meet the locals as well. It is not all about trekking, after all.
Exploring Torean Trail
Many reasons make Torean Trail becomes more popular these days. One of them is the challenge. Even the way to visit the Torean Village is considered challenging due to its steep and rocky route. Also, no excellent facilities are available (hotels or restaurants) on the site. What people can find in the village is only the Amak Gerni rest area, which is a group of traditional gazebos. Tourists usually use them to rest before trekking through Torean Trail. Make sure to pay the rent fee first, though.
From Torean Village, which is located at 600 meters above the sea level, tourists can start their adventure to explore the trail. Here is the thing. Several plans are available for them to choose from and the trekking usually takes 3 days. Thus, it is better to talk to the tour agency before deciding which package to choose. Also, it is recommended to hire a porter or local guide to help them to get around the site comfortably. When it comes to the fee, it varies depending on the time of visit.
During trekking in Torean Trail, tourists can enjoy other activities like sightseeing and photography. If they come in the morning, though, enjoying breakfast on the site becomes the best thing to do. Do not forget to enjoy a cup of warm coffee before continuing the trip! Later, they can go back to the village and spend a good time with the locals or try traditional foods there. Enjoy.
Nearby Attractions
Ancient Bayan Mosque
Rinjani Gawah
Greneng Beach
Penimbungan Waterfall
Niagara Torean Lauq
How to Get There
From Mataram City, travelers only need to head to Bayan Sub-District. Later, they can directly reach Torean Village and prepare all the requirements for trekking. The whole trip takes about 2 hours and 20 minutes and the distance is 85.4. As for the route, the best one is Raya Mataram – Raya Bayan Street.
Where to Stay
Lombok Garden Hotel
Rinjani Lodge
Mina Tanjung Hotel
Sayang Villa

Latest News
Of the many tourist destinations in West Lombok Regency, West Nusa Tenggara, Mekarsari Narmada Park offers interesting tour packages. Tourists can try the Tri Sunah activity tour package. The Tri Sunnah are swimming, horse riding and archery. Mekarsari Narmada Park originated from the desire of local residents to take advantage of the existing agricultural potential. The management has built a new swimming pool on resident's land of 2,500 square besto the ide Pecatu village land of 4,500 square meters. The village land was turned into a park equipped with archery…
---
Kenawa Hill in Sumbawa Regency, West Nusa Tenggara Province Sumbawa Regency is part of West Nusa Tenggara Province and it consists of both land and sea natural attractions. The region even features an archipelago where many beautiful gilis or small islands reside. Kenawa Island is one of them and it is known for both the stunning sea and the famous Kenawa Hill. That means tourists should head to the island first if they want to explore and get on the top of the hill. At that spot, they can enjoy…
---
Sumbawa Regency is part of West Nusa Tenggara Province and it consists of both land and sea natural attractions. The region even features an archipelago where many beautiful gilis or small islands reside. Kenawa Island is one of them and it is known for both the stunning sea and the famous Kenawa Hill. That means tourists should head to the island first if they want to explore and get on the top of the hill. At that spot, they can enjoy several tourist activities like sightseeing, photography, camping, and short…
---
Well, some tourists are likely to look for unique vacation spots over time. It is because they want to get a new experience during the holidays. In this case, Sumbawa Regency offers Batu Bulan Dam! As the name suggests, the dam resides in Batu Bulan Village and it belongs to Moyo Hulu Sub-District. In terms of function, it is similar to other dams for sure. One thing that makes it different is related to the nuance. The beautiful landscape and merry atmosphere lure more people to enjoy sightseeing, photography, fishing,…
---